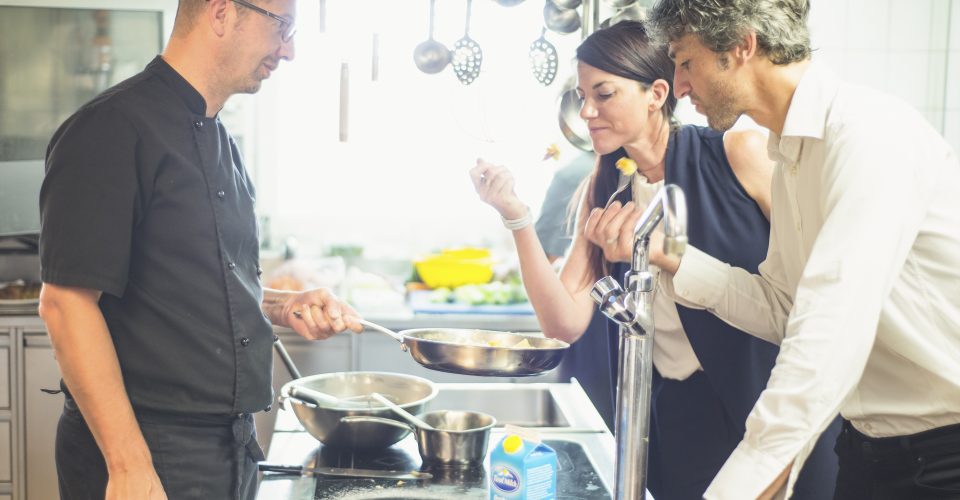 Post from 21. December 2017
Recipe tip for January: Apple Semolina Cake
Apple Semolina Cake
... quick and tasty - ready in 40 minutes.
INGREDIENTS:
6 medium-sized apples
6 tbsp. lemon juice, 90g butter, 75g ground almonds,
3 eggs size M, 150g sugar, salt, 125g honey, 1 tsp. grated organic lemon peel,
1 tsp. grated organic orange peel, 375g cream yoghurt (10% fat), 300g fine durum wheat semolina, 3 tsp. baking powder, 175ml orange juice, 1 tbsp. powdered sugar
PREPARATION:
Peel and quarter the apples and remove the pips. Cut crosswise approx. 1/2cm deep into the quarters on the round side. Turn over in 2 tbsp. lemon juice and set to the side.
For the dough, melt the butter. Roast the almonds in a non-greased pan.
Beat the eggs, 75g sugar, and 1 pinch of salt with the hand mixer until creamy. Stir in the 75g honey, lemon and orange peels, butter, and yoghurt.
Mix together the semolina, almonds, and baking powder, and briefly stir in 2 tbsp. each of lemon and orange juice.
Spread the dough out on a greased baking pan. Set the apple quarters on top with the cut side facing upwards. Bake in the middle of the oven at 190 °C (170° C on fan setting) for 35 minutes.
Boil the remaining orange and lemon juice, 75g sugar and 50g honey uncovered for 5 minutes. Prick the hot cake several times with a toothpick. Spread the syrup over the cake using a spoon. Leave to cool and sprinkle with powdered sugar.
If you don't have any apples, you can also use other fruits. Even tinned fruit works well with the dough.
Good luck!