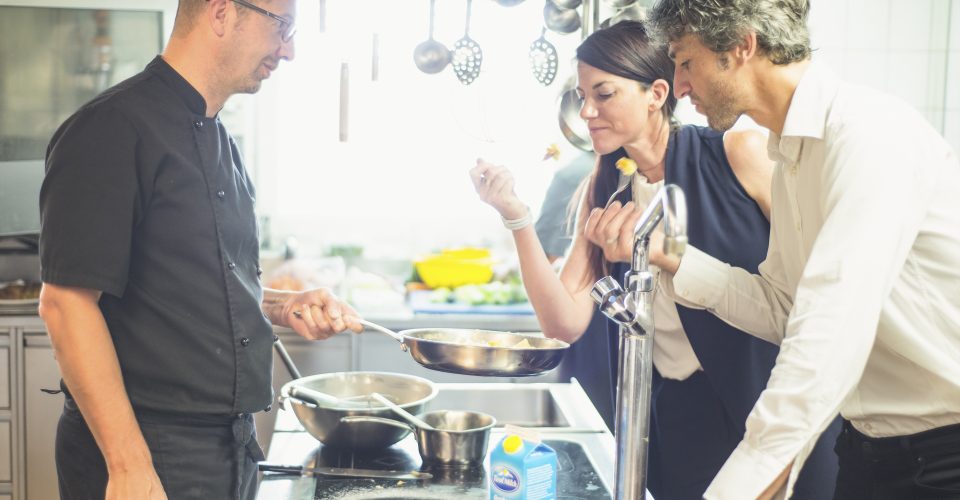 Post from 14. Dicembre 2017
Savoury Autumn Schmarrn
Seeing as we are currently celebrating
our annual Schmarren festival in Neustift, today I'm passing on a savoury autumn Schmarrn
recipe of mine from the hotel. It is extremely easy to prepare and the results
are truly delicious.
Ingredients:
100g. chanterelles/porcino
50g smoked venison sausages/smoked venison salami
2 spring onions
100g mountain cheese
250g smooth flour
3 eggs
200g milk
Pinch of salt
50g butter
How to prepare it:
Mix the flour, milk, and salt into a smooth dough, and
carefully fold in the eggs.
In the meantime, chop the chanterelles, sausages, and spring
onions finely and sauté in butter, coarsely grate the mountain cheese, make a
small pile on a coated baking tray, and put in the over for approx. 10 minutes
until the cheese is crispy. Leave to cool before breaking into small pieces.
Stir the mushrooms, sausage pieces, and spring onions into
the dough. Melt butter in a pan, add the dough to the pan, and cover with a
lid. Bake for approx. 10 minutes, turn over and briefly bake further, then rip
into pieces, serve on a place, and sprinkle the mountain cheese crisps on top.
I wish you good luck. Matthias from Hotel Erika.
Your Lifestyle Hotel in Neustift.