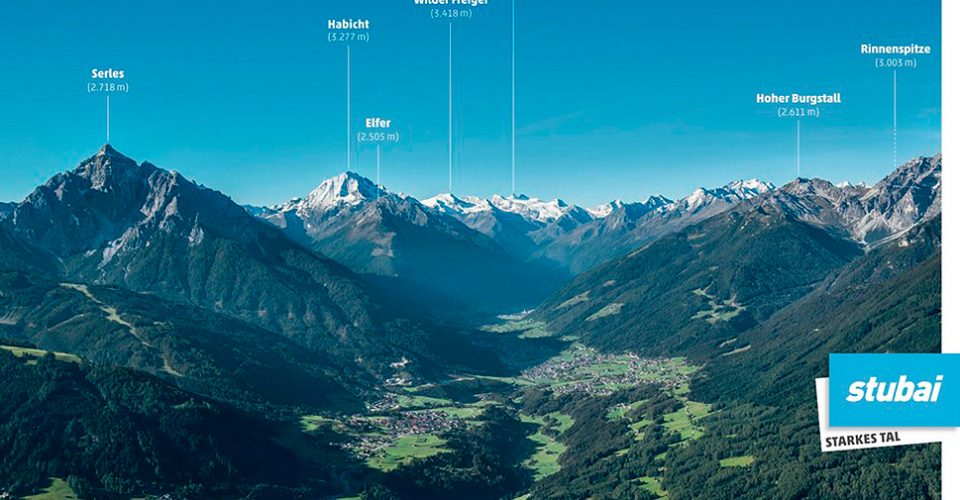 Post from 14. Dicembre 2017
Seven Summits Stubai
The 35-kilometre long Stubai valley is surrounded by a stunning mountain landscape. Seven mountains, which are especially lovely, striking, or significant for the valley and its inhabitants, have now been chosen by hiking guides as well as mountain enthusiasts.
The Zuckerhütl (3,507m) with its all-year-round white snow cap; the diverse Wilde Freiger (3,418m); the Habicht (3,277m), once thought to be the highest mountain in Tirol; the Rinnenspitze (3,003m), the easiest of the "Three Thousanders" to climb; the conspicuous Serles (2,717m), described by Goethe as "Tyrol's high altar"; the simply, but especially rewarding Hohe Burgstall (2,611m) with its panoramic viewpoint; and the Elfer (2,505m), Neustift's local mountain.
On the path up to the individual mountain peaks, guests and mountain lovers learn more about the background and stories of the Seven Summits of Stubai.
Meanwhile, the first mountaineers have already begun to climb all seven mountains. The hotel host Matthias Müller and his daughter Theresa have already completed 5 of the 7 summits. Their goal is to have conquered all of them before the year is out - if the weather allows it.
You can find more information on each of the mountains and the Seven Summits of Stubai at http://www.stubai.at/aktivitaeten/wandern/seven-summits.
Successfully conquering a summit gains you credit in the summit pass (available with the tourist board), which can earn you a prize depending on how many summits you have claimed.